Their July survey of 25 large US hospital systems—representing a quarter of the country's hospital beds—showed large decreases in surgeries this year as compared with 2019. The trend is expected to continue at least through the end of 2020.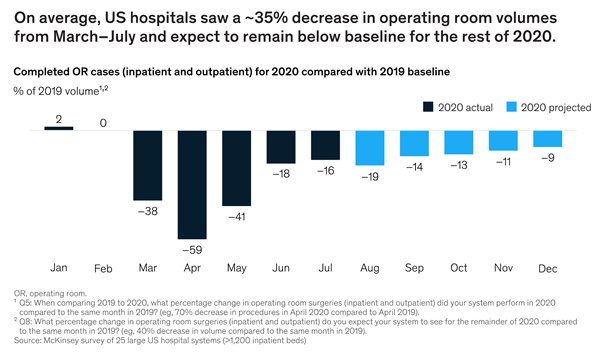 The onset of COVID-19 caused some patients throughout the United States to delay their surgeries as many hospital systems postponed nonemergent procedures. This led to a potentially large backlog of case volume. In a recent McKinsey survey of health system leaders, hospital executives said they may struggle to address this backlog given workforce availability, enhanced sanitation protocols, and reserved inpatient capacity. Without healthcare systems recalibrating demand and capacity, patients could face long backlogs for procedures, and potentially experience higher morbidity and mortality rates.
Solutions may include 1) reducing the unnecessary deferral of care, 2) effectively addressing new throughput challenges, 3) using advanced analytics to better forecast demand and manage capacity in real time, and 4) reimagining operating room operations to increase long-term capacity.
https://www.mckinsey.com/industries/healthcare-systems-and-services/our-insights/cutting-through-the-covid-19-surgical-backlog